From utilizing and maximizing the worth of your extra residential or commercial outdoor patio to protecting your owned vehicles from unpredictable and harsh weather elements, adding a wooden carport to your property is a practical purchase with unlimited benefits.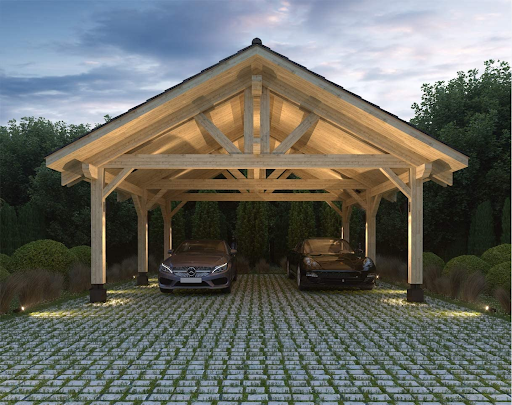 Carports have been around for over a century. These budget-friendly shelters are a great way to add monetary and aesthetic value to your property. More than just protecting your prized possessions, these customizable structures can also be utilized as storage spaces, entertainment or picnic area, animal shelter, or open-space workshop.
The versatile structures can fulfill every need if selected precisely according to the preferences. There are multiple options of carport materials to choose from, ranging from aluminum, steel, wood, or combination. The most traditional type of carports is the ones designed with wood.
Wood has been a classic choice for a carport as it mitigates the need for drilling and welding into metal and is an ideal DIY project to work with. But the wood is an expensive affair both for the pocket and nature. US residents now prefer to use more eco-friendly materials like steel as their conscious contribution to saving nature.
Moreover, metal buildings are cheaper and can easily be repurposed, bringing down the overall construction costs and offering an aesthetic appeal to the property.
 Steel and Stud is a manufacturer and supplier of metal building kits nationwide. Many of our customers are initially indecisive about which carport to purchase. This is a brief guide about wood carports available in the market, their cost, and how they are better than steel carports. After reading this blog, we are sure that our customers will be reassured about their decision and can further trust us for their metal building queries and needs.
Custom vs. Prefab Wood Carport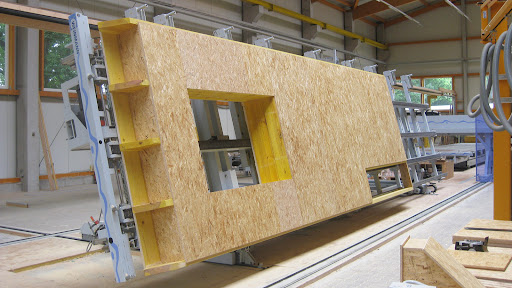 You have two options when adding extra parking or utility space to your existing building. You either select from the prefabricated wooden structures that are entirely designed in the factory and assembled at your property. A prefabricated carport is available in standardized sizes, which are limited and inflexible.
Features of Prefabricated Wood Structures
Prices for pre-fab wood carport kits cost from $2500 to $7000. Installation, building, and customization preferences will increase the total amount.
A prefabricated wooden garage might be your best bet if your carport project has a limited budget. You do not have to pay extra for architects, engineers, and constructors. All you have to take is a couple of professional hands to help you in the installation process.
All the pre-fab wood garages have their parts interlinked with each other. Therefore, you do not need to have any special tools to put these up. All you need is a professional assistant to help you assemble the parts and quickly get them up.
Does Not Take Weeks to Put Together
The prefab wooden building construction experts will put all the parts together in less than a day, saving you time, effort, and extra costs.
Features of A Custom Wooden Carports
The price for a custom wooden garage is not fixed; it ranges between $5000 to $10000. It depends on all the elements selected and the installation method of the carport.
Building a carport while attaching its roots from the ground provides more durability to the carport. In addition, opting for a wood carport benefits from a strong foundation and customized flooring options, increasing the utility while keeping your car safe.
You can design and build the garage from the ground up with customization options. Therefore, you have an opportunity to choose everything that goes into it. From the materials to design, color, and size, you can customize each element for your carport, fitting it to your idea of the dream garage.
Available Size Ranges of Wood Carport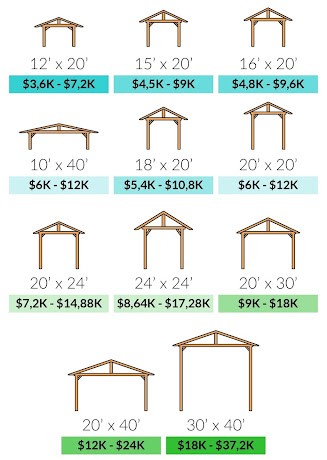 Wood Structures are built from different kinds of wood and are available in different sizes. Therefore, when determining the cost of your carport, you need to consider the number of vehicles and the type of carport.
 Some of the most preferred prefabricated sizes for a wood carport to keep your car dry: sun wind dirt driveway right place company log easily added
| | | |
| --- | --- | --- |
| Size | Number of Cars | Estimated Price |
| 12' X 10' | ATV | $1800 to $3600 |
| 12' X 20' | Single Car | $3600 to $7200 |
| 20' X 20' | Two Cars | $6000 to $12000 |
| 20' X 30' | RV | $9000 to $18000 |
| 30' X 20' | Three Cars | $9000 to $18000 |
| 40' X 20' | Four Cars | $12000 to $24000 |
Types of Wood Carport by the Number of Cars It Accommodates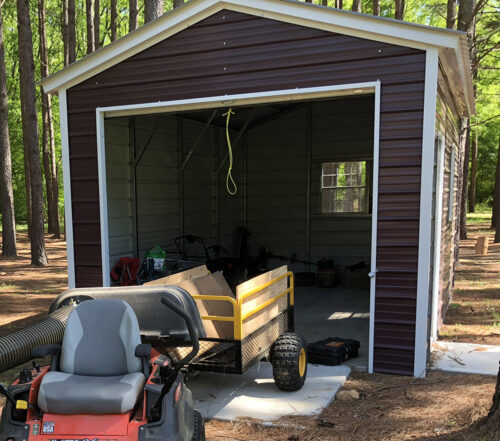 Carports for motorcycles and ATVs are the best options as it provides accessibility with protection. A wooden garage designed to store a bike or ATV costs around $1800 to $3600 with installation. The preferable size for ATVs and motorcycle sheds is 12′ X 10′ or smaller. It can easily accommodate two bikes, protecting them from damaging weather elements.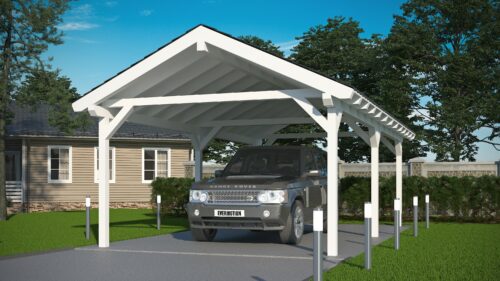 A single wooden garage is usually 12′ X 20′ and can accommodate any vehicle. The overall cost for the carport varies from $3600 to $7200. More than just a parking space, a carport can also be used for other purposes.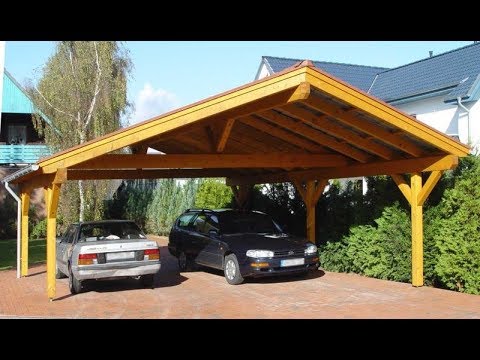 The two-car wood carport size costs around $6000 to $12000 with installation and is the most preferred size available. 20′ X 20′ is two cars' most common parking space size. Steel and Studs offer a customization option where you can increase the floor space according to your preferences.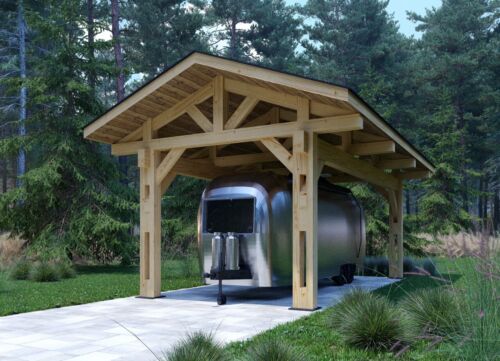 If you wish to protect your RV with a shelter made of timber, you only have to pay $9000 to $18000. Carports designed for RV need to be wider and longer than the standard sizes. The average size is 20′ X 30′ and has a higher roof length than usual.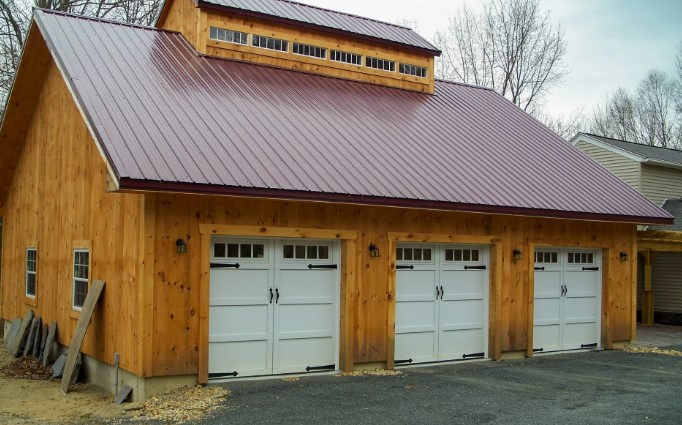 For all car lovers who own 2-3 cars, a three-car wood car port with 30′ X 20′ will be preferable. This option can easily be installed at $9000 to $18000. Apart from 3 cars, it can also store boats, ATVs, and other recreational vehicles along with your cars.
Costing around $12000 to $24000, the four-car carport size is around 40′ X 20′. These are the most popular options amongst most homeowners and can store multiple vehicles throughout the year.
Types of Wooden Garages Based on Its Location on Property
Lean-On or Attached Carports
Lean-on or attached carports generally are designed with sloping, large roofs and are held on by adjacent structure support. The heavyweight of these carports does not have the strength to stand independently. However, these options are ideal for multiple car sheds and big vehicles, costing between $6500 to $8000.
The roof for the attached carports seems like an extending part of the house and are permanent installation. Apart from just fulfilling the utility for the garage, this additional space can also be used as an outdoor patio or entertainment space, adding more functionality to the space and structures.
The strength of these carports justifies their high price and less maintenance factor. Also, you do not need to dig more into local authority permits for these attached structures.
Free-Standing Wooden Garages
A freestanding carport is an external unit in your outdoor patio and can be installed within the budget of $5200 to $6800.These are fully-built cost-effective structures that can easily be customized and installed without affecting the existing property.
 These are often installed with rounded gables, a frame, a vertical roof, and a concrete slab. A freestanding carport is easier to maintain and replace than lean-on structures. These modular designs have standardized parts that can easily be replaced or repaired, requiring less time, effort, and cost. With easy permit options, installing these structures with the help of professionals is relatively easy.
The Type of Woods That Can Be Used for Carports
There are a large variety of options when it comes to the selection of finished wood. But, along with the unique look, texture, and shine that allows you to alter the aesthetic appearance, each wood option has its pros and cons. Some of the popular wood finishes for a 20′ X 20′ wood carports are: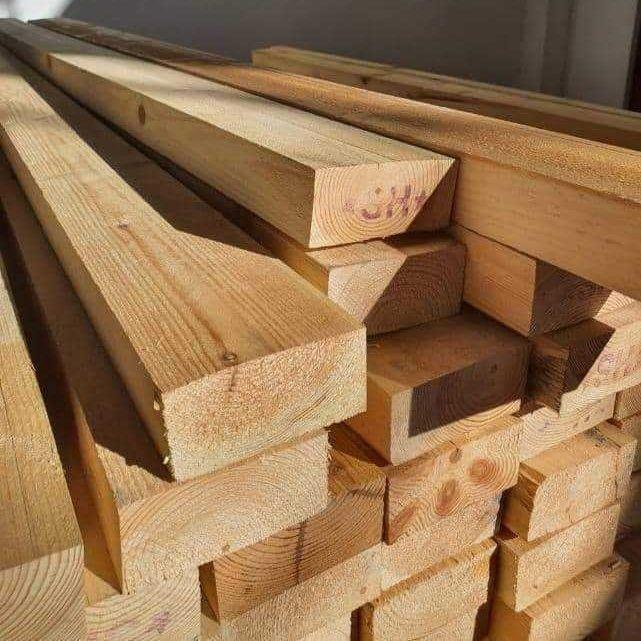 A timber carport encompasses all wooden planks, including both hardwood and softwood. If you wish to construct your timber carport, you need to pay somewhere between $4000 to $9000. This price includes exterior wood and frame posts for the timber carport.
Softwood timber has lightweight and is an aesthetically appealing option. But these have increased the chances of wear and tear. At the same time, hardwood is long-lasting and durable but is heavier and expensive.
Pine is another affordable option for your carport made of wood. A pine carport costs between $4200 to $5000 and can easily accommodate two or multiple cars. This wood has a rustic appearance, and the light weight makes construction easier. But this is a knotty wood and is more prone to twisting and wrapping due to its softness.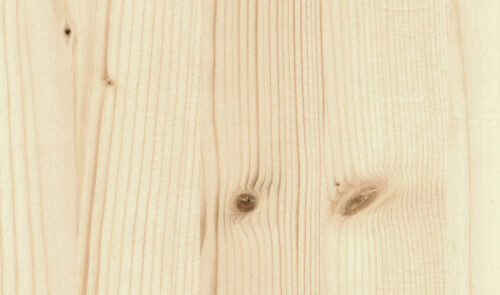 Spruce is the least expensive option for the carport's exterior and costs only $4000 to $5000. Its strength to hold up and affordability are the main factors behind the increasing preference. But at the same time, a spruce carport may not be able to withstand harsh weather conditions and are likely to have easily visible knots.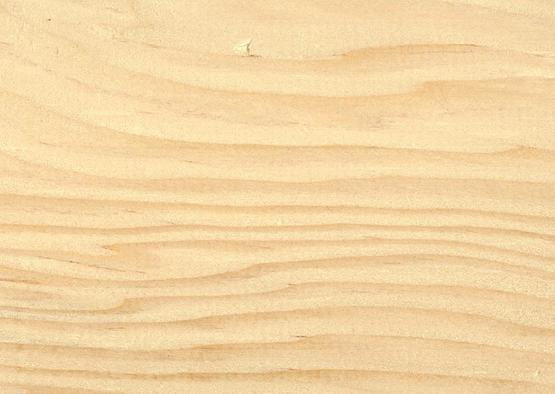 Fir is a softwood, and carports from this will cost around $4500 to $5300. It is one of the strangest softwood options that easily withstand twisting and wrapping. But the only drawback is its aesthetic appeal. It has a bland look and distinguishing marks that affect the overall appearance.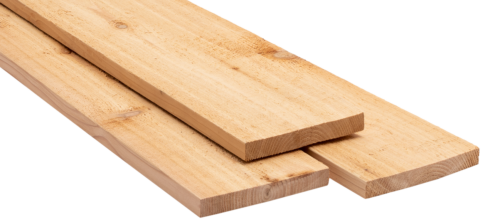 Cedar wood is another option for softwood materials and is far more durable than other options. It is the most common choice for a carport and ranges between $6000 to $7000. It withstands all the harsh and damaging weather elements and offers an aesthetically pleasing look to the carport. The only drawback of this wood is that it gets easy scratches and dents.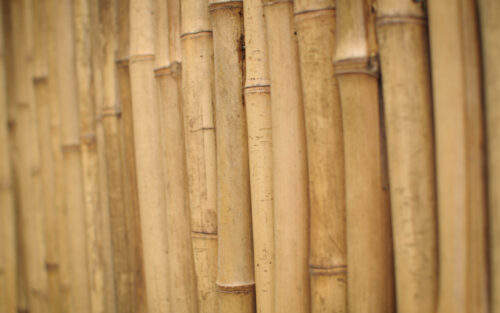 If you want a naturally blending look from your freestanding to a lean-on carport, and aesthetics is your primary concern, then bamboo wood will be an ideal choice. IT costs around $5800 to $7200. The weak point of bamboo is that it bends easily under pressure and is slightly more expensive than other options.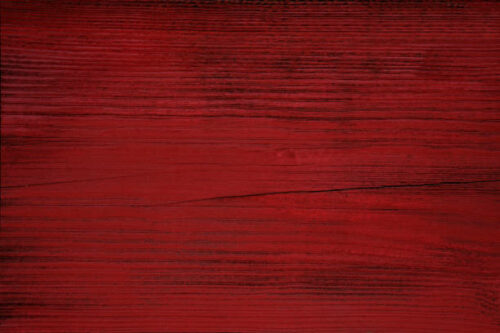 Redwood is the most expensive hardwood option, and its installation ranges between $7000 to $9000. It has a unique reddish shade that adds to its aesthetics and design. The weather-resistant, long-lasting, and durable feature justifies its high cost. Moreover, wood is not readily available due to its endangered status.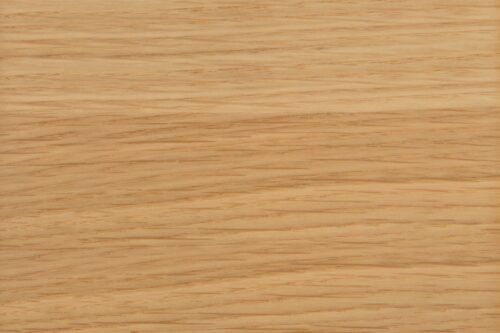 Carport installation in oak wood will cost between $7000 to $8000. The wood is slightly heavy and expensive but can withstand all weather conditions. In addition, it is available in multiple colors and elevates the aesthetics of the existing structure.
Type of Roofs Used for A Wood Carport
Rounded Roof Wood Carports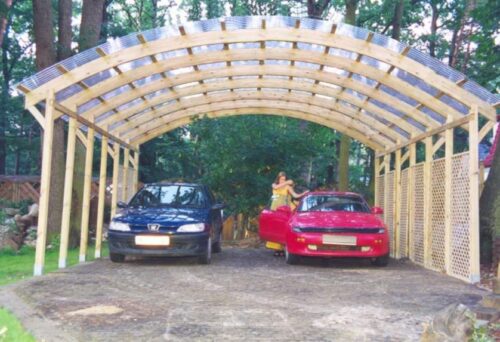 Rounded or curved roofs are popular due to their low prices and barn-like loo. These costs between $6000 to $8000 and are ideal for areas with snow loads. The rounded look provides classic aesthetics, and the owner does not clean the roof timely to avoid any build-up or clogged drains.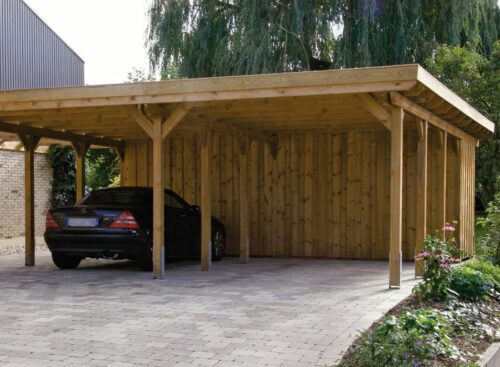 A flat roof protects from the sun's rays and is the least expensive option, costing only $5000 to $6500. However, this is only ideal for dry regions that do not have heavy rainfall or snow. In addition, the flat roof carport does not slide away from the build-up, leading to excess weight on the roof that may cause pressure and increase the chances of wrapping.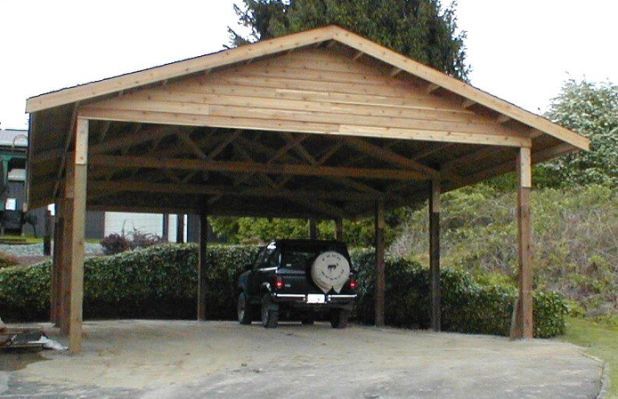 Carports with an A-frame roof costs around $6200 to $8500 and can either be box-eaved or vertical. The primary difference between box eaved and vertical is the placement of panels. Box eaved has horizontal panels, and the latter has vertical panels. As a result, the A-frame roof easily blends with existing architecture and is perfect for all weather conditions.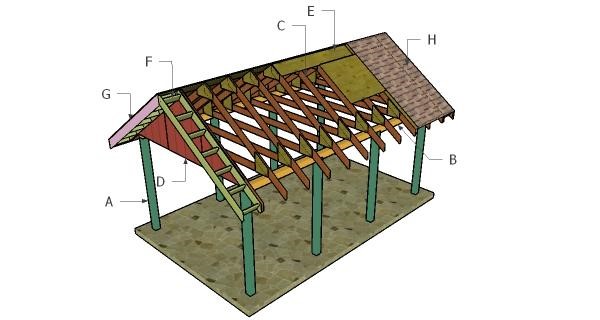 Gable roofs are the most traditionally styled and expensive roof options. Their installation costs between $7500 to $10000. These are known to provide a finished look to the structure and elevate the traditional aesthetics of your building.
 The price for vertical roof carports made of wood varies between $6500 to $9000. It is the preferred roof style for areas with heavy snow, winds, and rainfall. It easily slides off the build-up, eliminating any extra burden from the structural frames and adding more strength and rigidness to the overall body.
Overall Costs of a Wood Carport
 There are a lot of factors that influence the price of wood carports. Considering all these customization factors, the building cost ranges from $5000 to $10,000. The breakdown for this price further includes transportation, labor, and material costs.
Labour Cost
 While some shed designs are installed in a day or two, some take longer due to their heavy structure. Labour costs for a carpenter or builder may vary from $8 to $13 per square foot, depending on the location and tasks involved.
Ground Levelling
Another factor that add-up to the overall wooden garage cost is ground levelling. Building professionals first check the ground level and will rectify some of the minor levelling needs before starting the construction process. Moreover, wooden garages are installed only on the concrete foundation. It provides more strength and support to the structure.
 Concrete pad creation costs $2400 to $4800 for a 20′ by 20′ area. After preparing the ground and leveling it with a concrete base, the professional will install beams, posts, and roof frames.
Replacement Cost
 Replacing a wood carport is a labour-intensive task requiring more effort than constructing a new one. Replacement usually takes 1-3 days. It is because the old or existing structure must be demolished. Therefore, you must expect around $5500 to $11,000 replacement costs with additional $800 to $2000 removal costs.
Design Costs
 Most standard wood carports patterns are available in square or rectangular forms. But homeowners have an option to style them accordingly with unique specifications to uplift their overall building's aesthetics.
When finding a new design, you need clarity about the plan and aesthetics you are looking for. Picking the ideal structure and roof type will further give the carport an overall silhouette and shape.
 Another factor you must consider while designing your carport is its utility. If you are planning for something more than a garage, then finalizing the designs accordingly will provide more functionality.
| | |
| --- | --- |
| Additional Elements | Average Cost with Installation |
| Windows | $250 – $800 |
| Doors | $400 – $1,200 |
| Gable | $1,200 – $3,000 |
| Walls | $1,500 – $4,500 |
| Additional Truss | $500 – $950 |
| Insulation for Ceiling and Walls | $3,500 – $8,000 |
Some homeowners have a clear picture of their carport structures that might require additional components. It includes adding more walls, windows, garage doors, or other materials to make it ideal for the desired purpose. While some add-ons will elevate the aesthetics, others will add shape, strength, and durability to the overall structure. For example, adding a gable and truss provides more stability and alters the aesthetic appearance.
 If you decide to opt for an enclosed carport, you must consider the additional insulation costs that might add to the overall quoted amount.
Advantages of a Wood Carports
Wood carports structures have extreme versatility as they can easily be molded into different sizes, colors, and shapes. Moreover, different types of wood are available, from softwood to hardwood, providing a solution to all the design factors. But all these options have their own sets of pros and cons. Building constructors at Steel and Stud will help you with the best selections for the ideal structures, from plan to installation.
Wood has an undeniable classic look that cannot be achieved from any other material. It can instantly boost the structure's aesthetics, making it appear as a part of your existing house only. With so many options available in wood, you can easily blend the structure with your building and use the extended space for multiple other purposes.
If you doubt the strength of a wooden carport, then for your clarity, Steel and Studs offer you the highest-quality steel that is extremely strong and durable. In addition, the structures can withstand weather conditions, sun, wind, and dirt if appropriately maintained.
Disadvantages of Wooden Carport
One factor you strongly need to consider to increase the life of your wooden carport is its maintenance. When wood is exposed to external damaging elements, it needs some care to ensure longevity.
The planks or boards need to be painted and stained twice a year to prevent them from moisture. You also need to clean the wood using a pressure wash to remove dirt and debris, ensuring a smooth surface. Pressure wash will furthermore cost you around $625 for two hours.
Wooden carport roofs also need to be maintained regularly for leaks and clogs. Also, it is advised not to plant trees near the structure as moisture may invite termites.
Wood Carports are almost the same amount as steel structures. The plans, increased raw material, final finishes, and other add-on elements increase the overall price of the carport. In addition, they need to be installed precisely with the help of professionals.
Metal Carports Vs. Wood Carports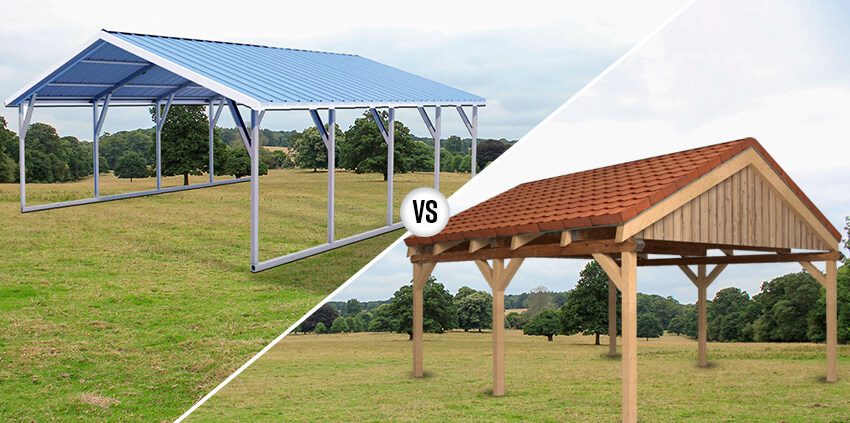 Carports offer some significant advantages, fulfilling multiple additional space needs for homeowners. Metal Carports have been the preferred form for a long time and are known for their outstanding durability and ability to remain in one place for many years. These do not have any risk of breakage, termites, and dryness. Metal carports protect your vehicle from damaging weather elements while eliminating regular maintenance.
But the installation procedure for this cost-effective structure is complicated, and you need to get professional assistance for installation. Moreover, metal carports limited the buyer's ideas to a few designs and sizes with little customization.  
Wood Carports, however, are versatile and provide convenient storage options. These come with an easy and time-saving construction process. Wooden structures easily blend with your existing layout and do not seem to be an external unit. 
Comparing the price factors for the two materials, metal carports can be installed at only $15-$30 per square foot, whereas wood carports need a minimum budget of $15-$30 per square foot. Therefore, metal carports may be ideal if you only want to fulfil garage needs. But, if you adore the structure's aesthetics, then spending a bit more on wood carports will justify the worth of your dream installations.
Protecting your investments with an ideal carport type will help extend the life of your vehicles and will save you money. Steel and Studs provide customized and prefabricated wooden carport options, ready for professional installation with all the necessary components.
Our high-quality wood carports are custom-built by construction crews, meeting all the superior standards, and are configured to meet your functional and aesthetic requirements at unbeatable prices.
Give us a call today to get your free customized carport quote, serving the best solution that you've been needing.
Frequently Asked Questions
1. Is it cheaper to build a garage or carport?
Carports are cheaper than a garage because a brick building needs more material than freestanding or lean-on carport structures, which are prefabricated and customized forms.

2. Do carports need footings?
Wood carports need a concrete flooring base for installations, extra stand support, and strength to the structure.

3. Do carports add value to homes?
Wooden carports are an extension of your existing home structure and elevate the overall aesthetics.

4. How close to the property line can I build a carport?
You cannot build the carport or garage closer than five feet to the front property line.

5. Can my Neighbour build right to my boundary?
If you get approval from the local authority and follow the Party Wall Act process, wood carport structures can easily be added next to your neighbour's boundary.