Buying custom metal building kits has a huge benefit of design flexibility. These kits are generally walled on all four sides with metal sheets, functional structural framing, and roofing sheets.
On the interior, starting with the roof, everything is void and makes a structure that is not energy efficient. The sheer emptiness of the structure offers a rare opportunity to customize the interiors to your taste and needs. Commercial and residential spaces especially may not be able to work with such plain looks, while industrial users may be fine with it.
A key area for metal building insulation is its ceiling system. Various insulation options include steel liners, plywood, ceiling tiles, and drywall. Other considerations that owners have to make include finished and unfinished ceilings. This article discusses how you can put a ceiling in your metal structure: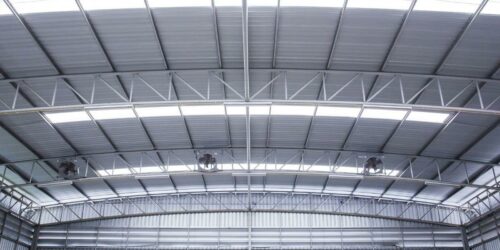 Things to Consider Before Putting Metal Ceiling on Metal Buildings
Design flexibility is a major benefit owners enjoy when buying a custom metal kit. When your metal building construction is complete, the space you get is one to enjoy. Subsequently, you must make some major considerations before adding other interior designs, such as ceilings.
For example, construction permits are a first step to beginning the remodeling of your building interiors if you had not obtained one for the interiors before construction. Also, to carry out the ceiling installation, what tools such as power tools and scissor cranes would you need?
Steel framing of metal structures has considerable strengths, such that they offer clear spans up to 200ft apart. This provides ample space for users to attach ceilings and create partitions all across the building since walls do not break the space into bits initially.
Steel framing provides superior durability over traditional materials like wood and brick walls. Ultimately, the metal framing is pest and moisture resistant, allowing owners to save money on maintenance and repair costs. The relationship of the interior framing to your ceiling installation is that you will have a strong base to attach your ceilings to without the risk of sagging and leakages.
Choose Insulation Material
Condensation within steel buildings occurs when there is a difference between exterior and interior building temperatures, which raises the humidity within the building. The buildup of condensation within the building increases the corrosion rate of the metal building. Hence, the quality of experience within the structure is compromised with the attendant risk of health problems and investment losses.
Insulating a prefabricated metal building can help protect the building by regulating its internal temperature. Insulation allows companies to heat or cool their buildings and save energy costs considerably.
The reason for avoiding insulation for many metal building owners is the ability to save costs. However, the cost-saving capability is case-dependent because steel buildings with living quarters and commercial steel buildings need building insulation. The U.S. Environmental Protection Agency estimates that homeowners can save roughly 15% of their heating and cooling costs with the proper insulation installed in a building.
The location also plays a crucial role in building insulation installations. For example, areas with high humidity rates across the U.S. require insulation more than areas with low humidity levels. Some metal building insulation choices include spray foam, rigid boards, and fiberglass.
Finishing Metal Interior Walls
Owners who prefer a traditional look for their metal building interior would love this option. The metal interior of the building can be finished with drywall and wooden panels. This option allows owners to preserve the durability of their metal building and its default aesthetic. All wiring, fire protection devices, lighting, and plumbing must first be installed and inspected before the walls are finished.
Start Putting Metal Ceiling on Metal building
When finishing off the interior of your metal building, you have various insulation options to choose from, depending on your design preferences. Modern ceiling designs leave steel beams exposed. It is a cost-saving design that provides a higher headroom, makes the space appear bigger, and creates a contemporary look for the building.
The ceiling beam must be appropriately prepared before a metal ceiling system is installed. The roof beam provides support for the ceiling grid to be installed. The drop ceiling protects the unappealing electrical wiring and other accessories from public view.
Wooden frames or steel beams may support ceilings in metal building spaces. With the use of specialized clamps to hold wiring to beams, the strength of the beam will not be compromised. If there are multiple roof beams to use, spaces may vary, which you can then fill with metal ceiling tiles and beams with wooden strips.
Metal ceiling panels can either be cut onsite or at the factory. The benefit of using factory cut panels is that it helps owners save on labor and time onsite, although their upfront costs are typically higher. Onsite cutting, however, allows owners to cut panels into custom size requirements on site.
A middle point between both onsite and factory cut panels is best for most projects where owners get a large number of panels factory cut with only a few left to be cut onsite. This approach will help save costs and eliminate errors on site.
It is best for all ceiling panels to be measured and verified onsite. Measurements should then be taken after the ceiling profile and perimeter have been installed. Lighting fixtures, fire protection devices, and other accessories should be accommodated in the ceiling panel measurements.
Lighting is the first set of outlets owners need to create spaces for. Each light fixture should have its plug attached right to the ceiling. The plugs should be installed to allow the lights to drop down.
Sound systems also get installed into metal building ceilings according to client requirements. This is particularly useful in workspaces that double as living spaces. Stereo systems require wooden shims to tilt well enough to allow the sound to reach the open spaces better when working. You may need to create spaces for other accessories, including sprinklers and smoke detectors.
Put the Installation of Metal Ceiling on Metal Building
Using scissor cranes allows owners or contractors to finish their roof work better because they can reach just about anywhere in the structure's roof. Contractors can finish their work faster if they use this great equipment. Heavy-duty versions like the 20ft version can carry both humans, ceiling panels, and their tools everywhere around the metal building for the installations to be done. With two people working per time from the top of a scissor crane, contractors can make a 3-set pattern which helps them achieve great stagger joints.
Stagger joints are overlaps of the metal panels used for the ceiling in a metal building. They usually about 2 inches overlap between 16ft sheet panels allowing contractors to flush them at the end of the truss. The staggers enable the contractor to keep correcting themselves. The capability to correct the installation process every 9 or 3 sheets makes a better finish.
Ceilings are great additions to steel buildings. They add more aesthetics and insulation to the building. With added insulation, owners can improve the building's energy efficiency and lower their energy costs. Suppose you want to have a ceiling installed in your metal building; you need to buy a ceiling kit and your building kit. Contact us at Steel and Stud today!
Frequently Asked Questions