Sheds are enclosed structures protecting and sheltering things and objects stored inside from harsh weather conditions like rain, snow, and hailstorm and also against theft and burglary. Finding the right kind of shed material that is durable, affordable, functional, and visually appealing is a constant concern.
Plastic, wooden, steel, or vinyl siding sheds are commonly used in major parts of the US. Wooden sheds are built from premium quality timber. Plastic sheds are also widely seen on houses, storage spaces, gardens, and garages. To choose the best, you should quickly analyze wooden shed vs. plastic shed and know their differences, pros and cons. Along with the wooden sheds and plastic sheds, steel sheds are also installed nowadays. Steel and Stud is one of the pioneers in the metal building material business. We manufacture engineered, and certified metal sheds that last long. The company also customizes the design and shape of the sheds to fit the space and area.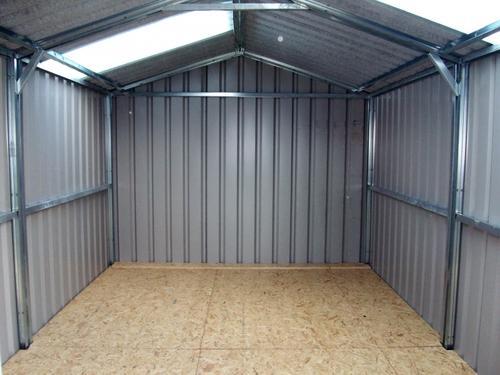 Which One To Choose – Wooden Shed Or Plastic Shed
Residents and business owners of the US constantly juggle between the wooden shed and the plastic shed. Before drawing any definite conclusion, let's take a glance at the perspective of a wooden and plastic shed and focus on the high and low points for both.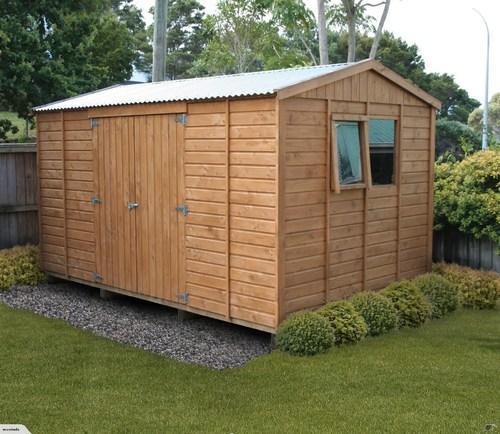 The wooden shed is the first material that was widely used in the US. This shed is sturdy and long-lasting, either made of cedar, fern, pine, or spruce. 
Pros of Using Wooden Sheds
Wood shed has been in use even before 1800. Irrespective of many alternatives, wooden sheds are still quite popular in 2023 because of their strength, classic look, and versatility. Moreover, wood being a renewable resource, the shed is considered an environmental-friendly option. 
Sheds made of wood look classic. The wooden shed enhances the overall look and feel of the space. Moreover, it is easy to do a makeover on this shed by installing shingles or by painting. Placing a window or making a door is also easy on wood panels. 
Wood is known to be a super insulator. The exterior can resist the heat coming from outside and keeps the covered area pleasant. If you have the requirement to spend long hours under the shed, this is the best-educated decision.
The panels are available in a plethora of shapes and sizes. Moreover, it is also easy to cut and resize wooden planks to fit the exact space. It can be easily painted to match the look and feel of the space.
Wood is heavy and robust. So this variant among all the shed types is known for strength. Thus, it can stand straight against gusts of strong winds.
Disadvantage of Using Wooden Shed
Available in Only Raw Finish
Due to the absorption of moisture, the wooden shed is quite imperfect. You can easily find twists and bends all over the shed surface. 
Maintenance And Treatment
Wood needs a lot of protective treatment like weatherproofing. It makes the material durable and does not allow it to rot.
Prone To Insects And Bugs
Wooden sheds are prone to insects. You will often find carpenter ants and other wood-eating pests infesting the exterior planks. Thus, you need regular pest control treatments to augment the lifespan of the woodshed.
Plastic or resin sheds are usually made of vinyl or, commonly said, PVC or high-density polyethylene. Though they get bounty points for being durable and easy maintenance, they are losing their market among the environmentalist population of the US.
Advantage of PVC Shed Material
A plastic shed is an economical option for Wooden sheds. Moreover, the maintenance cost is also very lower than a wood shed. So, while considering what to buy between wooden sheds vs. plastic sheds, low cost is the ultimate point of difference. 
Gone are the days when plastic sheds were made with inferior quality PVC. Now with the advent of new companies, this material is manufactured with high-density polyethylene, which not only boosts the lifespan of the items but also makes them weather resistant.
Unlike wood sheds and vinyl sheds, plastic sheds do not require weather-resistant and pet-resistant treatments. You can easily clean the plastic sheds regularly with solutions. Moreover, it is best to put an anti-UV ray coating on the shed that prevents the color from fading. 
Plastic sheds' walls and roofs can be easily installed through DIY. One of the plastic shed pros is that you do not require carpentry knowledge or tools to set it up. 
Unlike wooden sheds, plastic sheds, made with high-density polyethylene, are lightweight and can be carried everywhere conveniently. You don't need much manpower to carry the shed from one place to the other. 
Though shingles are not meant for plastic or resin sheds, they can easily fit in many designs and sizes. You can use a plastic shed in areas like covering a gutter, a skylight, and windows. Most plastic sheds are available in modular kits, so installing and taking them out during a facelift is easy. 
Disadvantage of Plastic Sheds
Compared to wooden sheds, these materials lack sustainability. So installing this shed might not be a good choice from a security perspective. 
Unable to Resist Harsh Temperature
Plastic sheds are not capable of withstanding extreme temperatures. One of the plastic shed cons is that it twists in extreme cold and hot conditions.
Refurbishing and facelifts are a challenge with a plastic shed. Because of the lightweight material, these sheds cannot hold extra weight, though the shed's roof and walls can be easily painted.
Buy Steel Sheds Instead- Better Than Wooden And Plastic Sheds? 
Along with wood, plastic, vinyl, and resin, Steel Shed is another popular choice for a shed. Metal sheds gained popularity in the 1960s. Available in varying thicknesses, Putting up a metal shed is the cheapest, sturdy, and most durable option. We propose a steel shed as a better option for the following reasons:
3 Reasons How Steel Sheds Will Offer Cost-Saving Benefits In The Long Run 
The steel is heavier and extremely strong to resist strong winds and hailstorms better than plastic sheds. Structurally solid and sturdy, these variants are long-lasting compared to wood, plastic, and vinyl materials. Apparently, these sheds are quite aesthetically pleasing and can even be painted to match with the theme of the walls and floor. You can add shingles to augment the look.
Steel does not rot with over-exposure to humid conditions. Moreover, this material has no risk of insect and pest invasions, unlike wood sheds. A metal shed has unmatched strength, especially against fire accidents, as they are fire retardant similar to a vinyl shed.
Maintenance is quite easy. Either painting or spray where the paint has faded away. Unlike wood, metal sheds and its floor are not affected by mold and mildew, so they rot or get distorted or twisted. As the high-quality PMB manufacturer, we provide a 10-20 years warranty on our steel shed. But for wood, resin, vinyl, and plastic, the warranty period is not streamlined and might require more frequent painting.
When exploring the pros and cons of a metal shed, you must focus on and consider the facets that have made the material a cost-effective option for all in the future. Take a glance.
Shop Steel Shed Kit For Quick construction 
Construction of a new building can be an expensive call for your buisness storage problem or better living at home. Also traditional construction may involve time, which can be exhausting again.
The metal sheds are available in modular kits and are super easy to assemble and install. Thus, it saves a lot of construction costs. Moreover, a metal shed foundation cost is usually cheaper as concrete can easily be laid down on flat surfaces. The time-saving and super convenient assembly and installation process has made a metal shade an immensely cost-effective choice.
Buildings like resin shed, garden shed, garage, and barns may not be the most decorated space on your property, but they surely are the most useful ones. They are not only helping you to store your garden tools, extra clothes, beds, or any other household items, but they are also helping many new small and large businesses in fulfilling their dream when used as workshops or warehouses,
Steel And Stud are one of the leading names that manufacture top-quality sheds. This company has gained acknowledgment and admiration by offering engineered quality and certified products with a warranty and flawless customization techniques.
Unlike woods, pests and insects do not invade a metal shed, So pest control and other protective treatments are not required, making it a low-maintenance choice.
Unlike wood, steel sheds are portable and easily carried from one place to another. Thus, not only cost-effective but is also a convenient option.
Every county has its building codes; you must first check with a state official to confirm eligibility. If it is permissible, you can easily carry it from one place to another. A metal shade is easy to assemble with simple tools and convenient to carry.
This type of shed can be customized as per the size and dimension of the space. You can remodel or do a facelift of a metal shed with drill holes to enhance the functionalities and look trendy.