According to a survey by Cars.com, Americans hold strong feelings toward their cars, treating them as an extension of themselves. But despite their immense love and pride, more than 40% of car owners have to expose their cars to outdoor parking due to space constraints.
Dents from hails, bird droppings, high winds, heavy rain, and UV sun damage- parking outdoors can damage your car and impose safety issues. Of course, those with the luxury of a garage built in their house might not need to worry about safeguarding their vehicles. But for the rest of us, carports are a godsend.
Steel carports are a cost-effective way to shelter your vehicle. The customizable steel structures will optimize the monetary value of outdoor space while prolonging the life of your car.
For all the existing or prospective car owners who are still deciding whether they should buy metal building kits or not, Steel and Stud will help you with clarity. Steel and Studs have many types of carports, each differentiated on available space, gable, structure, frames, and designs.
Keep reading this blog to find out which roof style or design you should select for your carport or metal buildings for increased use and functionality.
Carports are semi-covered, versatile steel structures supported by metal beams and covered with steel or fabric roofs. The portable steel carports have a roof covering, and the sides are usually open.
These aesthetically pleasing, low maintenance, and open-style structure can be attached to a house, garage, or any outdoor space. For example, it can be anchored in a driveway to protect your RV trucks, cars, SUVs, or light trucks from external damaging elements. Moreover, these open-sided steel coverings can also fulfill the need for a patio and extra storage space, a perfect addition to any residential or commercial property.
Carports can be used year-round. These strong structures can resist natural erosion and extreme weather conditions that damage your vehicles. It is a wonderful option if you desire something affordable, cost-effective, and easy to install that will fulfill all its promises without any extra frills.
Difference Between Carport and Garage: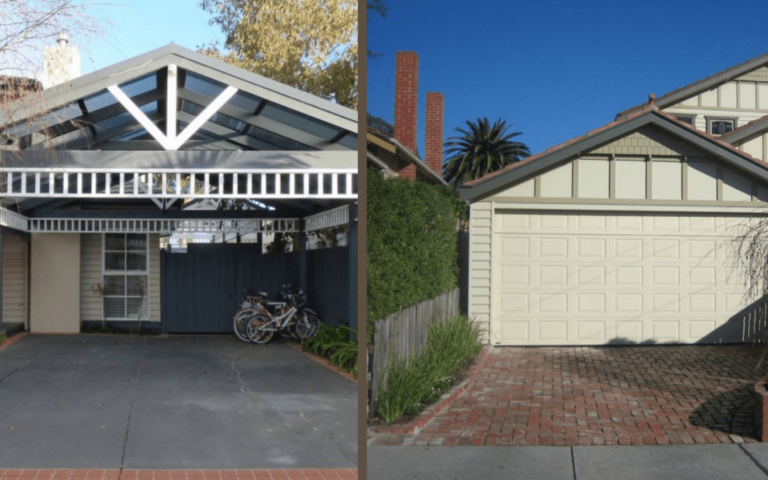 A garage and carport fulfill the same purpose, protecting your vehicles from damaging elements. But a small yet significant difference highlights and justifies the increasing preference for carports.
A garage is a part of your existing structure or building. However, carports are external installations and usually have only two walls and a roof. Steel carports are portable and temporary structures that can either be attached to a wall or unattached.
Suppose you already have a garage and want to increase the parking space. In that case, you can install a carport alongside your existing garage if the local authority permits its installation or construction. Best of all, carports are a pocket-friendly, super convenient, and low-maintenance option and can also serve the purpose of other outdoor functionality spaces.
Best Types of Carports Designs to Fulfil Your Needs
There are many different types of carports available in the United States market. Depending on your unique situation, each one can offer a great solution. First, look at the most common types of the carport and determine which option will be perfect for you.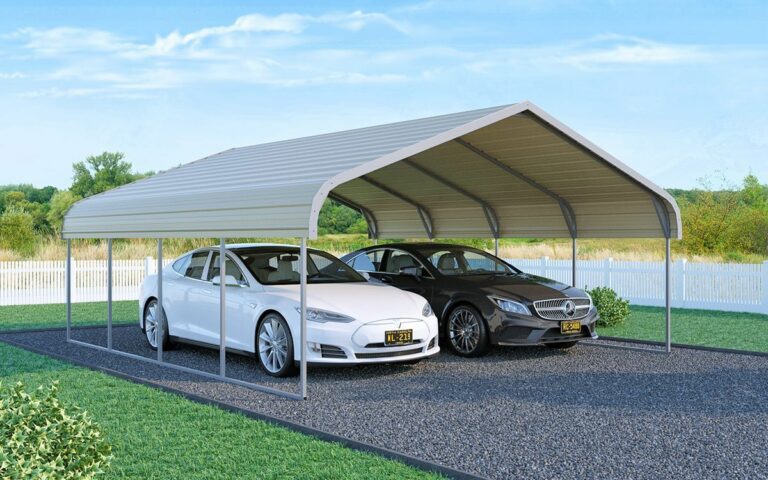 Steel Carports are the most preferred carport style in areas with extreme rains, long winters, and large amounts of snow. These are the most durable and long-lasting sheds for your vehicles, able to withstand much more external stress than any other option.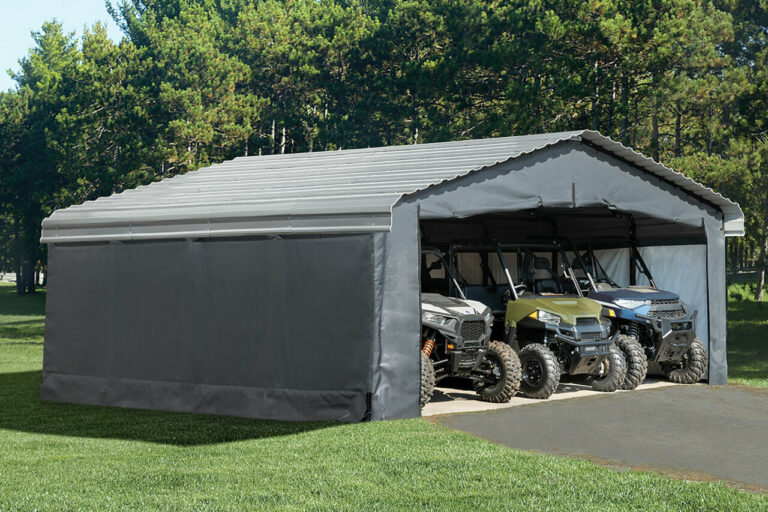 Fabric carports cover all the benefits and feature a shed must offer, providing a good deal of protection from damaging elements. Although the fabric roofing and walls may not be as robust as metal, the fabric carport design increases the aesthetical values of your home, providing flexible storage options for increased accommodations.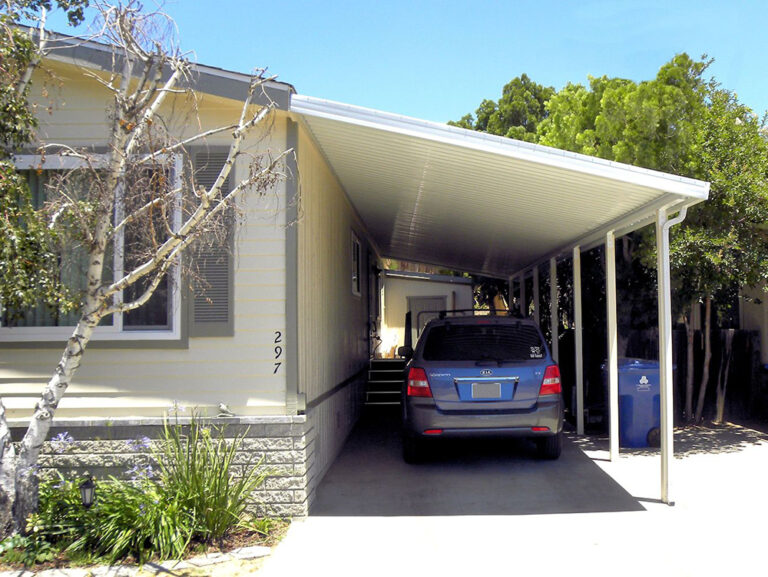 Residents expect the exact look and feel of a garage from the carport. The attached metal structure will help you with the details. This permanent carport type will not only protect your car from cosmetic and outer damages instead also protect it from criminals and burglars.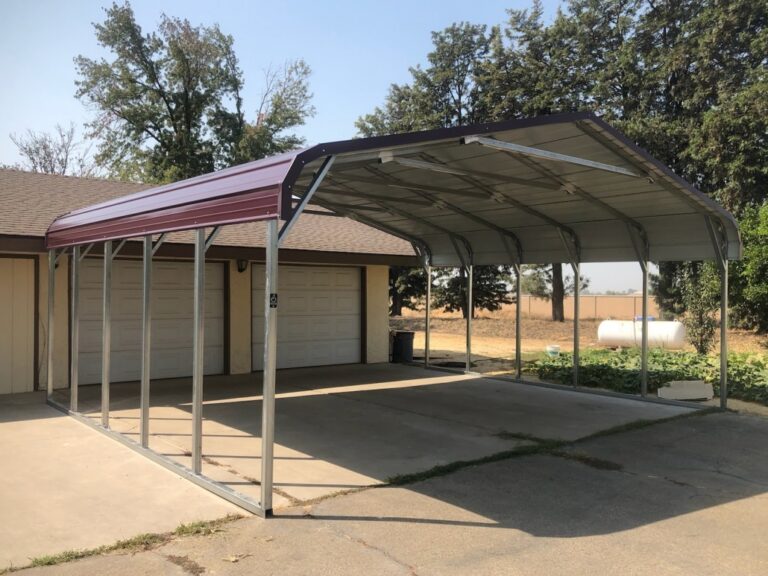 An open-sided carport can be customized in both metal and fabric finishes. These do not have walls on either side and are supported by posts and beams attached to the roof. It will prevent your car from harsh weather conditions like rain and snow. Open-sided carports are easy to build in limited space, easy to maintain, and affordable. You can easily park two cars in this metal structure based on size.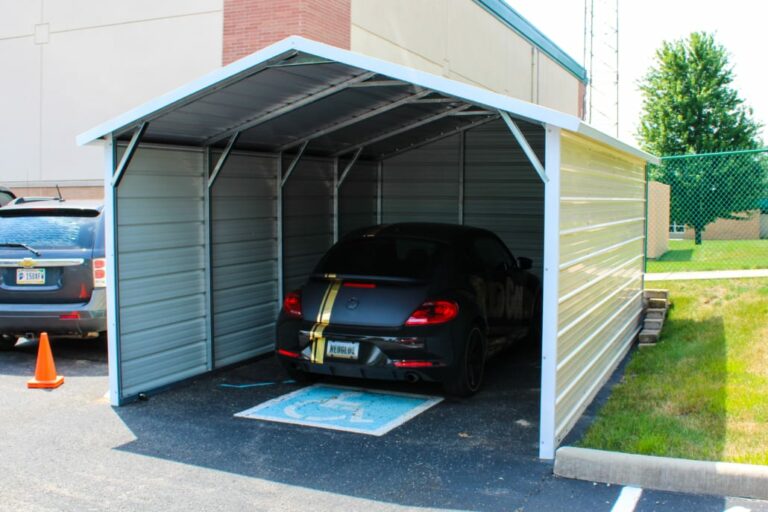 Unlike open-sided carports, enclosed carports are designed with a wall that provides more protection and can be an ideal option for increasing storage space. The only major downside of an enclosed carport is that these are more labor-intensive than other options.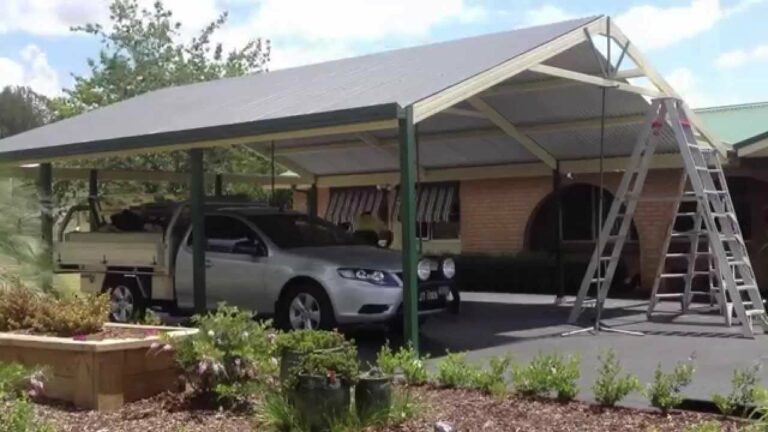 Gable roofs are a unique blend of modern neatness and traditional style. These carport designs are constructed in a triangular shape, with both corners bent towards the flooring. Areas that experience heavy snowfall or rainfall must opt for a gable roof carport as it slides off everything smoothly. Moreover, the triangular roof gives a finishing touch to outdoor spaces, complementing the aesthetical pleasure of your overall home structure.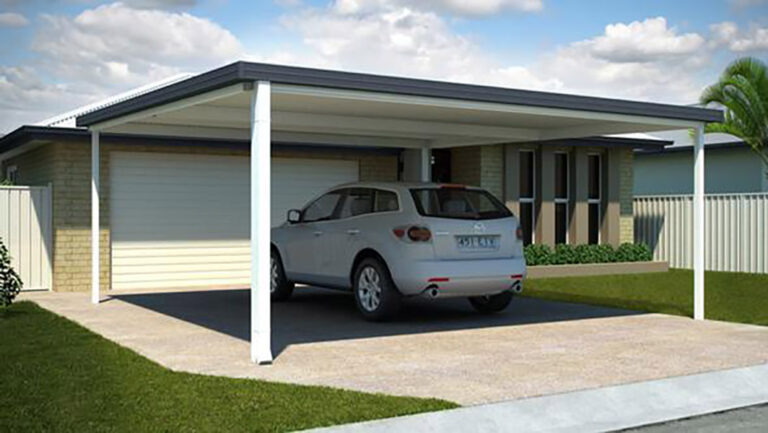 A flat roof carport is affordable and easy to invest in. A flat roof will protect your vehicle from bird droppings, sun damage, and weather elements. However, it is not advisable for the area with heavy rainfall or snow due to its flat structure.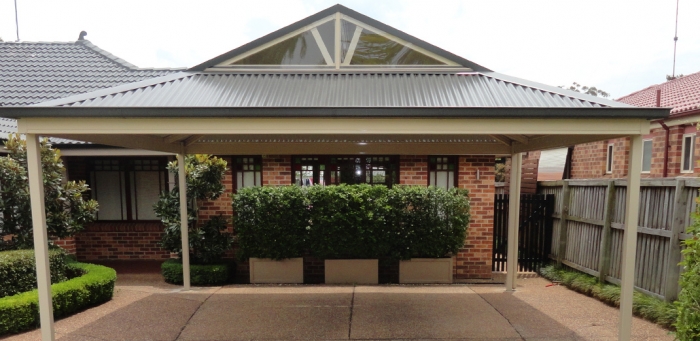 Flemish gable, also known as a Dutch gable roof, is like a sloping pediment. These carport designs will enhance your overall building or structure with a modern look. The Dutch gable roof also makes the extra space ideal for get-togethers and parties. Hip Roof Carport designs are more adaptable to strong wind and cyclones.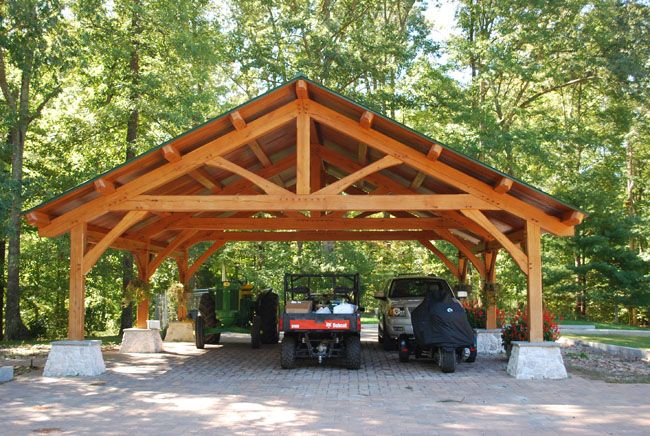 For all those who want the functionality of a carport but are not willing to spend much, a timber carport frame or carport from wood structures is a solution for you. It is available in both flat roofs, gable roofs, and different materials. These will easily blend with your property's landscape. But the only drawback is that wood is more prone to damage than metals. Therefore, you must maintain the structure to prevent it from getting infected regularly.
Portable carports are ranked as the best flexible option for metal structures. Ideal for both residential and commercial uses, this portable metal or stainless-steel unit can easily be assembled and disassembled when needed and will help save money on garage construction. Flat roof carports are the most opted metal structure in portable carports.
Specialty garages are specially designed for heavy or semi-trucks and other vehicles. These are more expensive, and the specificness may not add much functional value to your outdoor space instead of fulfilling its prime function.
In specialty garages, you can choose from the durable flat roof, gable roof, or Dutch roof.
How to Choose the Best Types of Carports for your Vehicle?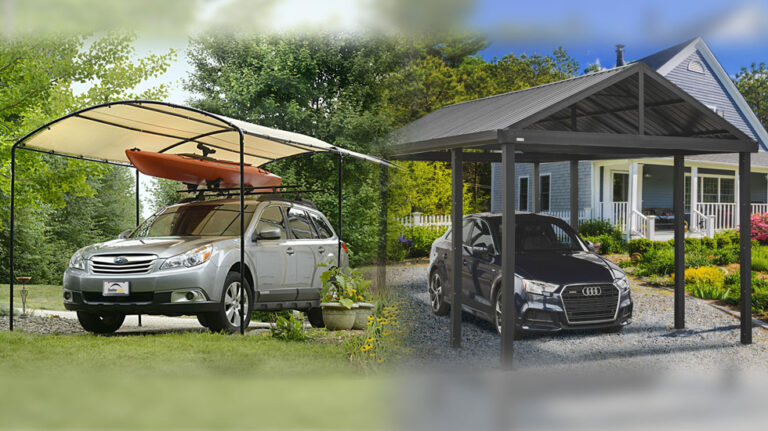 Most of us make some common, avoidable mistakes while investing in carports. Quick research on the available type of carports and their compatibility with your needs will help you make the best final decisions.
You must address your current and future needs to find the best available carport for your outdoor space. The following list of questions will help you assess all your needs and what kind of steel building may serve the best solutions-
What is the main purpose that you want your metal carport to fulfil?
How much outdoor space are you willing to cover?
Do you need an enclosed structure or an open-sided metal carport?
Do you have the permit for installation or metal construction?
How much are you willing to spend on your carport?
Answering all these questions will help narrow your search for steel carports, presenting some ideal options according to your needs. Keep adding more questions to the list to make the best final decisions.
Steel and Studs offers a wide range of metal garages, carports, and metal building options. Moreover, the steel building solution provider will assist you with professional experts to help address all your needs and ensure that you invest in the best metal carport that will provide solutions to your present and future needs.
Connect with Steel and Studs experts now to know more about the available options.